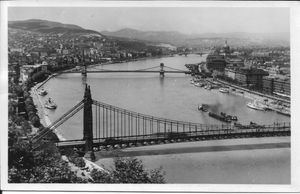 Bio
Postcard from Budapest, Robert Severin's debut album of original songs, explores the legacy of his Hungarian heritage and its connections to his home, Scotland. Robert's parents met in Scotland, as refugees from the Hungarian uprising, in December 1956, marrying just three weeks later. They settled in London a few month later, where Robert was born. Robert met his Scottish wife in Budapest, in 1989, as the Iron Curtain was about to fall. 
In 2017, Robert attended two residential songwriting courses, in England and Scotland. The first was tutored by Sir Ray Davies, the second by Boo Hewerdine and Findlay Napier. On the second course, Robert met Innes Watson, an acclaimed Scottish multi-instrumentalist, currently a member of the traditional Scottish band, the  Peatbog Faeries. During one of the workshops, Robert presented his song, Red Shades of Blue, to the other participants. Innes suggested that it would suit a string arrangement by his quartet, Innotet: Seonaid Aitken on violin 1, Innes on violin 2, Pasty Reid on viola and Alice Allen on cello. After a career in special education, this inspired and committed Robert to realise a long held ambition to produce an album of original work.
Robert and Innotet recorded four songs together. The album opens with "Red Shades of Blue", which was inspired by a postcard from 1936 that Robert found in a second hand bookshop in Budapest. It is followed by songs that draw upon destiny shaping events and courageous individuals. Half of the collection draws upon the links between the histories of Hungary and Scotland.  He felt compelled to tell the stories of compassion, courage, altruism, and unwavering humanity in the darkest days of Hungary's recent history.
Robert relates these biographical snapshots in both narrative and lyrical forms brought to life by his affecting melodies. He has also included songs about his own family in this collection. Robert's compositions, four of which are complemented by Innes Watson's elegant and captivating string arrangements, have drawn comparisons to the music of Nick Drake, Jacques Brel, David Sylvian, Brett Anderson, Leonard Cohen, The Beatles and the Hungarian balladeer, Tamás Cseh, among others.  
Robert had been invited to perform his album at The Holocaust Memorial Centre in Budapest for its Hungarian debut, in the second half of 2020, but the event had to be cancelled owing to the pandemic. Plans for touring are presently on hold. 
Robert participated on a two year mentoring programme at The Songwriting Academy, UK, and is working on a number of projects in collaboration with other songwriters from around the world. One of these collaborations resulted in a Nashville release in January 2023, reaching No.15 in the UK Heritage Chart. He has also commenced writing for his next album to be  released in early 2024.