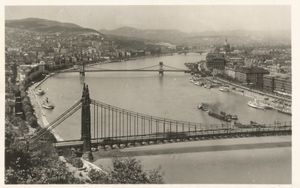 Songwriter, Singer, Guitarist
With his debut album, Postcard from Budapest, Robert Severin explores the legacy of his Hungarian heritage and its connections to his home, Scotland. Each song tells a true story about real lives lived and disrupted in 20th century Budapest, several of which have Scotland woven into their histories. They are affecting melodic documents of strength and vulnerability, joys and sorrows, and courage in the face of unimaginable inhumanity. 
Robert sings, and plays acoustic guitar and clarinet. Four of the tracks feature acclaimed Scottish string quartet, Innotet, with violinists Seonaid Aitken and Innes Watson also contributing to backing vocals.
Postcard from Budapest was released on February 28th, 2020. A new album is in progress and will be released in early 2024.
Robert is involved in diverse collaborative projects with other songwriters from the UK and around the world. He is also writing for other artists, TV and film. A recent co-writing project resulted in a Nashville release in January 2023.
Robert's new single, Elena, a collaboration with Dutch poet Linda de Bruijn, tells the story of a Ukranian refugee fleeing from the Russian invasion, will be released on February 24th, 2023. Listen here on SoundCloud
I have discovered the premier exponent of British-Hungarian chanson. Robert Severin's songs are lyrically led but all with beautiful, delicate, highly original tunes... A truly gifted songwriter, he is a Jacques Brel for our times.                Colin Bailey, RnR Magazine 5/5 stars.
  They are lovely songs...The lyrics are excellent, the stories the songs tell are touching without being sentimental.   George Szirtes, Poet and Translator
...Robert delivers intimate songs, beautifully accompanied. This is the musical equivalent of spending a moment reading well thumbed poetry in a quiet city square, as time stands still.                                                                                     Marc Higgins, Northern Sky Reviews 4/5 stars.
Severin delivers an incredibly beautiful musical photo album, in which you want to keep browsing.                                Jan Willem Broek, De Subjectivisten 
 ...stunning debut album... Liz Clark, Album of the Week, Celtic Music Radio 
Thoughtful and literate.  Steve Clarke, Strange Brew, Radio Skye 
...profound stories. They are stories we should listen to.  Mike Wistow, Folking.com